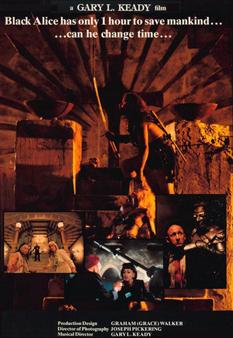 Written and Directed by Gary L. Keady and Produced by James M.Vernon, the Aussie sci fi, fantasy feature film was distributed for cinema and video release in Australia after premiering in at the Cannes Film Festival in 1989. During 1990 the film played at Hoyts cinema's nationally for 10 weeks.

Gary was awarded nominations for 'Sons of Steel' at the 1989 Australian Film Industry Awards (costume design) and the 1989 ARIA Awards (best original Australian soundtrack album - beaten by 42nd Street - really Australian huh!) The film was also nominated for best picture at the Festival de Imaginaire, Clermont Ferrand, France and the Sci Fi/Fantasy Film Festival of Tokyo, Japan in 1990.
'Sons of Steel' was licensed for Foreign rights distribution in 1990 by The Image Organization of Hollywood. As a result is was only sold to minor territories, Japan being the largest. All rights have now reverted to Keady and Vernon. Sons of Steel was not sold to the UK, France, North America or Canada, to name a few. So a lot of people are missing out on the experience.
In Australia the video rights were licensed by Virgin Video Australia but the company went into liquidation before distributing the film. As a consequence 'Sons of Steel' has had no free to air, pay TV, video, DVD or internet release in Australia. In 2000 'Sons of Steel' was invited to feature at the Science Fiction Nebula Awards in Melbourne. The 'Sons of Steel' fan club were in attendance there in full regalia.
As far as exposure is concerned 'Sons of Steel' has not to date received the best treatment. The film deserves much better. However, now that the rights have reverted to the creators of the film and now that the genre is more acceptable to the industry, the film's day will undoubtably come.
Along with the film comes the original soundtrack album with Black Alice performing (all rights available), and the precursor to the film; a 13 minute theatrical short film starring Black Alice entitled 'Knightmare'.
Take the tour of some of the pictures taken during the making of and after the completion of the film.