In 1984 GEOFF HARDIE well known international promoter called up his mate GARY KEADY, a record producer, to invite him to Perth, Western Australia to see a local heavy metal band he was knocked out by, called GYPSY. Two months later after writing and rehearsing with the band, GARY called up his old mate in the UK, STEVE JAMES and convinced him to co-produce the bands debut album. Within weeks they were in a Singapore recording studio producing the album entitled; 'ENDANGERED SPECIES'.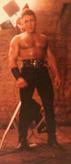 Once the album was completed the band's name was changed to BLACK ALICE and an epic relationship had be born. A haunting post nuclear war image of a smouldering burnt man hooded in a fallout mask standing in front of ULURU, then called AYRES ROCK, not far from the Central Australian town of ALICE SPRINGS, became the album cover. The symbolism of a charred radioactive man in the middle of the Australian desert near ALICE SPRINGS identified with the subject matter in the songs and with the name BLACK ALICE.
A little known fact is that the smouldering guy on the front cover is actually GARY KEADY. This came about because GARY was in the UK to secure a release for the album and had to come up with a cover concept. With the band gigging in Perth and an urgency to get the album out, GARY had to do the cover. The lead singer of BLACK ALICE was the enigmatic ROB HARTLEY around whom in 1985 GARY wrote a 35 mm short film for cinema called KNIGHTMARE. It was then ROB became the individual known as BLACK ALICE. GARY hired a little known budding director YAHOO SERIOUS as his first assistant but when time and budget constraints became an issue GARY had YAHOO co-direct the short with him.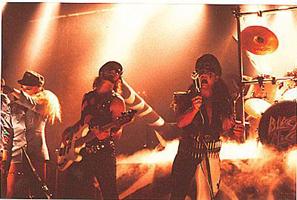 The film was shown nationally in Australia supporting the blockbuster DUNE and received critical acclaim.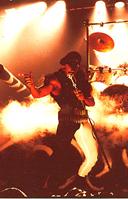 Following it's success GARY exhibited the film at international film festivals in an effort to win financial support to produce a feature version of KNIGHTMARE. In 1986 GARY wrote the screenplay for KNIGHTMARE and shopped it for finance but with no much luck, it was too heavy for the suits and GARY was pissed. Then in 1987 he met JAMES MICHAEL VERNON who after reading the script dug the concept. They teamed up, JAMES did the suits to get finance while GARY produced numerous drafts of the script and worked with ROZ WASON and ROB on the characters. Later that year SONS OF STEEL emerged as the title of the latest draft and the finance was raised. GARY got together with his brother ROD KEADY as well as his long time writing partner JOHN VALLINS to write songs for the film. Then he brought STEVE JAMES to Sydney from England to produce ROB HARTLEY singing the songs for the film. The band assembled for the task still contained the lead guitarist from the original BLACK ALICE/GYPSY band, the brilliant JAMIE PAGE. Session players were added, the excellent PAUL RADCLIFFE on keys, ANDY CHICHON on bass, SCOTTY JOHNSON on Drums and LORI BALMER back vocals. SONS OF STEEL was shot in 1988 and released in 1989...... it's still ahead of it's time... want to know more about this film? Click here
| | |
| --- | --- |
| | |
| John Vallins on the Goanna! | Lori Balmer recording the back up vocals for "With You" |